Logan Art Gallery Pop-up Current Workshops
Logan West Community Centre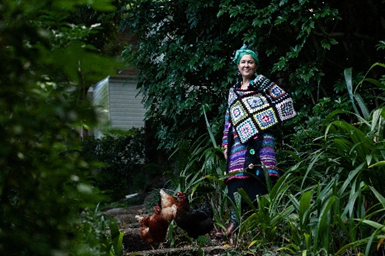 A-tisket, a-tasket, an upcycled basket Wire armature fabric sculpture Refashioning your wardrobe
Logan Art Gallery Pop Up current exhibitions: Adult workshop program
Logan Art Gallery and Southside Upcycling Stitchers Collective artists are excited to offer a series of workshops which highlight the joy and creative possibilities to be found by giving unused and unwanted objects and materials a new lease on life.
Workshops will be held at Logan Art Gallery Pop Up, 2 Wineglass Drive, Hillcrest.
A-tisket, a-tasket, an upcycled basket
Friday 24 June
10 am to 3 pm
Adult workshop
Work with artist Therese Flynn-Clarke from the Southside Upcycled Stitchers Collective to create a colourful woven basket from recycled plastic tape.
Wire armature fabric sculpture

Tuesday 12 July
10 am to 1 pm
Adult workshop
Artist Shannon Hunter will show how to construct a simple wire armature to support a cloth art-doll or other fabric sculpture. Make 2 armatures to finish your creations at home.
Refashioning your wardrobe
Wednesday 20 July
10 am to 1 pm
Adult workshop
Bring along three items from your wardrobe that you love but not wearing in their current form. Artist Jane Milburn will share simple, creative ways to upcycle to better suit your style and needs. Then get creative with scissors and hand stitching!
Times
Friday 24 Jun 2022 - Sunday 24 Jul 2022
Tuesday 12 Jul 2022, 10:00AM
Wednesday 20 Jul 2022, 10:00AM
Subscribe to our newsletter to stay in the loop