ENGAGE, INSPIRE, MOTIVATE.
There is so much to explore in our Education Programs. Learning about social and cultural issues could be fun – and we have a range of shows programmed to motivate and inspire inquisitive adolescent minds. With four new shows coming up soon, there is plenty to choose from and enough time to prepare. Engage your students in a new way.

Receive your free 2024 Education Welcome Pack. This pack is full of great content and merchandise to get you excited about all the fantastic shows coming to the City of Logan. Click here to arrange delivery of your pack today!

Looking for entertainment during the school holidays? Click here to see our School Holiday Program for 2024.
The Peasant Prince
Friday 14 June, 2024
A Monkey Baa Theatre Company production.
Based on the book by Li Cunxin, Illustrated by Anne Spudvilas. Adapted for the stage by Eva Di Cesare, Sandie Eldridge and Tim McGarry.
The children's version of Li Cunxin's iconic autobiography, Mao's Last Dancer, The Peasant Prince tells a remarkable true story of a 10-year-old peasant boy's journey from impoverished rural China to the international dance scene. This is a story of courage, resilience and unwavering hope.
Li, a 10-year-old peasant boy is plucked from his village in rural China and sent to a ballet academy in the big city. He leaves everything and everyone he loves, including his family. Over years of gruelling training, this boy transforms from an impoverished peasant to a giant of the international dance scene. Li's courage, resilience and unwavering hope for a better life for himself and his family make The Peasant Prince a story to ignite our own aspirations to be the best person we can be.
Presented by Logan Entertainment Centre
Time 10 am & 12 pm
Duration 60 minutes, no interval + 10 min post-show Q&A
Venue Logan Entertainment Centre
Audience Suitable for primary school years 2 to 6
Links to Curriculum (ACiQ Ver 9) English, HAAS, The Arts: Drama
Finding My Spirit
Wednesday 10 July 2024
Created by Logan local and proud Butchulla and Bundjalung woman, Sally Terare.
Stella has lost her spirit and needs your help to find the key ingredients to bring her spirit back! Finding My Spirit is an immersive journey that shares First Nations
culture with a truly special gift that is found within us all. Covering themes of friendship, mindfulness and identity, Finding My Spirit will take students on a
journey of self-acceptance and pride. Incorporating a variety of conventions including storytelling, direct address, traditional cultural dance, music and language, this piece of Indigenous theatre highlights the importance of cultural identity and individuality.
This project is supported by the Regional Arts Development Fund (RADF). RADF is a partnership between the Queensland Government and Logan City Council to support arts and culture in regional Queensland.
Presented by Kingston Butter Factory
Time 10.30 am
Duration 45 mins (including a 10 min post-show Q&A)
Venue Kingston Butter Factory – Butterbox Theatre
Audience Prep to Grade 6 primary school groups
Links to Curriculum The Arts: Drama, Dance, Music and English.
From Campfire to Stage Light
Thursday 11 July 2024
From Campfire to Stage Light is an epic journey toward self-determination and Indigenous pride, as told through the life experience of David Bindi Hudson,
well-known and loved cultural leader and global ambassador for Indigenous Australia. David is the ultimate storyteller, singer-songwriter, dancer, visual artist and actor and the performance is brought to life through storytelling, songs, and extraordinary visual design.
At a young age his mother, Esme, a Western Yalanji woman, takes David to live on his father's traditional country, the lands of the Ewamian people. There he's
guided by the Elders in cultural knowledge and given his cultural name, Bindi, meaning 'look forward'. He embarks upon the world adventure with this new name
and a new mission—to bring the culture of his people out of the campfire light and into the global spotlight.
Presented by KBF and JUTE
Time  11 am
Duration 90 mins, no interval
Venue KBF
Details This show includes scenes that depict images of Indigenous Australians who have passed away.
Links to Curriculum (ACiQ ver 9) Drama, Music, English, HAAS
Grug
Wednesday 21 August, 2024
Celebrate Book Week! Grug is based on the much-loved picture book character created by Ted Prior.
Grug began his life as the top of a Burrawang tree that fell to the ground. Resembling a small, striped haystack with feet and a nose, Grug is fascinated by the world
around him and solved everyday problems creatively and without fuss. When dancing instructions are too difficult to understand, he invents his own dance and
calls it 'The Grug'. When snails eat his cabbages, Grug plants more cabbages so there will be enough for both him and the snail.
Having performed to more than 50,000 people worldwide, Grug is perfect for the youngest of theatre lovers.
A Windmill Theatre Company and Queensland Performing Arts Centre's Out of the Box Festival Co-Production.
Presented by Kingston Butter Factory 
Time  10 am & 12 pm
Duration 40 mins, no interval + 10 min post-show Q&A
Venue Kingston Butter Factory – Butterbox Theatre
Details This show contains some loud effects and sudden lighting changes
Links to Curriculum (ACiQ ver 9) The Arts: Drama, Visual Art, Science, Health & Physical Education, The Early Years Framework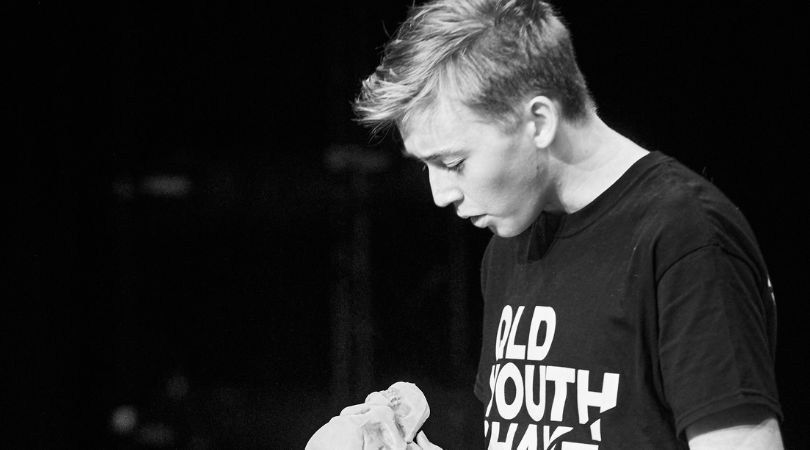 Shake Fest – QLD Youth Shakespeare Festival
Thursday 22 August, 2024
2024 is the year to Shake Fest! For over a decade Shake Fest has provided a unique opportunity for students across Queensland to focus their artistic abilities in an all-inclusive creative celebration of the works of William Shakespeare. Shake Fest dynamically connects students, schools, and industry through Shakespeare.
Presented by Shake & Stir and Kingston Butter Factory.
HOW IT WORKS
STEP 1: Get inspired and enrol your school via
Logan Arts booking form
STEP 2: Get creating!
Once teachers have enrolled their school, students can select from the different categories to prepare their own take on Shakespeare's work! A collection of online resources are available to help with the development process.
Categories include: Monologue, Duologues, Scenes, Dance, Music, Design, Photography, Film
STEP 3: Local Showcase
Participants are invited to an evening at the Kingston Butter Factory, showcasing performance work and exhibiting design, photography and film entries for friends and family. Entries will be filmed at showcase and submitted for feedback.
STEP 4: Industry Feedback
Once reviewed, your students will receive feedback on their submissions to help them on their creative journey. Selected students will be invited to the State Showcase in Brisbane at the beginning of Term 4, allowing them time to adapt their piece for final performance and display.
STEP 5: Show and celebrate!
The State Showcase is our two-day extravaganza to applaud Queensland student's creative work. It begins with a full day of free workshops where students can hone their skills and forge friendships with like-minded students across the state. The following day, participants will showcase their work for a public audience.
Time  7pm showcase
Audience Grades 7 – 12
Venue Kingston Butter Factory – Butterbox Theatre
School ticket prices
Logan City Council will cover the cost for students to enter Shakefest. Tickets to the showcase will be on sale for the general public later in the year for family and friends to attend.
Links to the Australian Curriculum (ACiQ Ver 9):
Drama
English
Literature
Music
Film and Media
Visual Art
Dance
Shakespearean studies
Conventions/Styles:

Storytelling
Elizabethan theatre
Contemporary performance
Enrolments open October 2023
Local Showcase/Entry Submissions Wednesday 22 August 2024
State Showcase October, Term 4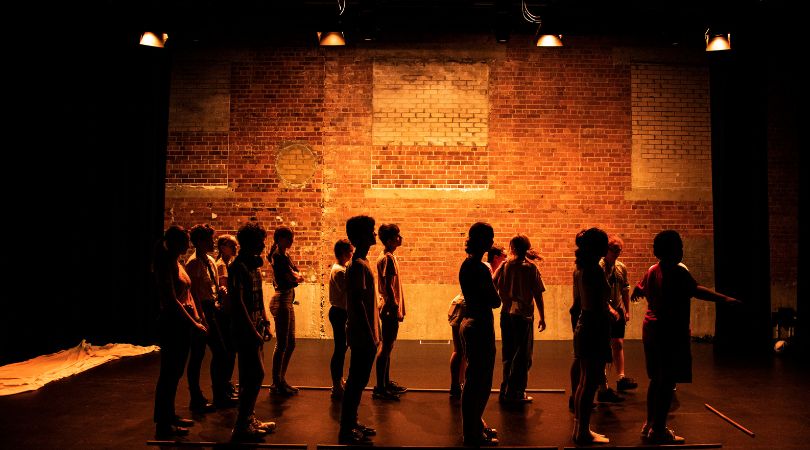 The Scene Project
Thursday 29 August and Thursday 5 September 2024
The Scene Project is Queensland Theatre's largest Education offering, encouraging drama students throughout the state to engage in the creative process of performance, from rehearsal through to presentation.
Each year a playwright pens a new work and the participating drama groups are tasked with the challenge of creating their own unique 15 minute version of the play. During the rehearsal phase, Queensland Theatre artists visit the participating schools to facilitate workshops.
The Scene Project is about collaboration, acknowledging students and teachers as artists, building confidence and encouraging live performance in a professional space and manner. It is also an excellent way of participating in professional development and enhancing existing curriculum in schools.
The project concludes with local schools coming together at the Kingston Butter Factory to share their performance in the Butterbox Theatre. On this day, a cast of professional Queensland Theatre actors also present a full interpretation of the play under the same 'minimalist' parameters that schools have, providing
DRAMAyoung artists and their teachers with new ways of making and shaping texts that can be taken into their classrooms.
The final stage of the project is a learning forum that allows for students to acknowledge the skill and artistry of their peers as well as engage in robust discussions around process and performance building.
Presented by Queensland Theatre and Kingston Butter Factory.
Time 9am to 3pm each day
Venue Kingston Butter Factory, Butterbox Theatre
Audience Grades 9 to 12 (Secondary school groups)
Links to the Australian Curriculum
ACiQ Ver 9 – The Arts General Drama
Unit 1
Unit 2
Drama in Practice
Conventions/Styles:
Contemporary Political
Narration
Physical Theatre
Fragmentation
Historification
Complex seeing
Myths
Constructivist design
Minimalism
School ticket prices
$500, excluding GST. The Scene Project is supported by the Kingston Butter Factory.
This subsidised rate is offered to Logan schools only.
Amplify
Saturday 12 October 2024
With a panel of judges from the music industry and great prizes up for grabs, school bands go head-to-head for their chance to be crowned Amplify's 'Band of the Year'. To enter, schools/bands are required to submit their expression of interest via the link below by Sunday 1 September 2024. Bands accepted into the finals will be notified on Thursday 12 September.
Students must be between the ages of 12 to 18 and be able to perform up to 3 original songs. Songs must not contain any inappropriate language or offensive content and must be suitable for a family audience.
The finals will be held at Logan Entertainment Centre on Saturday 12 October. Each band will be allocated a sound check on Saturday afternoon and will play live that evening to impress our judges and audiences. The winning bands will be announced at the end of the evening.
Tickets for the finals will be available via our Logan Arts website for community, family and friends to come along and support their favourite bands!
Presented by Logan City Council.
Time 6:30 pm Showcase
Duration Approximately 2 hours
Venue Logan Entertainment Centre
Audience General public
School ticket prices
$20 per band for entry into the competition
$10 per ticket for entry to watch the finals (performers and one accompanying teacher will be provided with artist passes and do not need to purchase a ticket)
Links to the Australian Curriculum (ACiQ Ver 9)
› The Arts: Music
› Music Extension
› Music in Practice