The Kingston Butter Factory (KBF) Cultural Precinct is scheduled to open in early 2022.
Logan City Council is creating a vibrant cultural heritage and performing arts hub at this iconic site in Kingston.
The KBF Cultural Precinct will host indoor and outdoor performances and events, night markets, farmers' markets, and major festivals. It will be a place where the City of Logan's rich cultural heritage and diversity is celebrated.
The precinct features the Living Museum of Logan and brand new Butterbox Theatre in the re-imagined Kingston Butter Factory building, as well as the city's largest outdoor events space, the Logan City Historical Museum and Devon Pixies Tea House.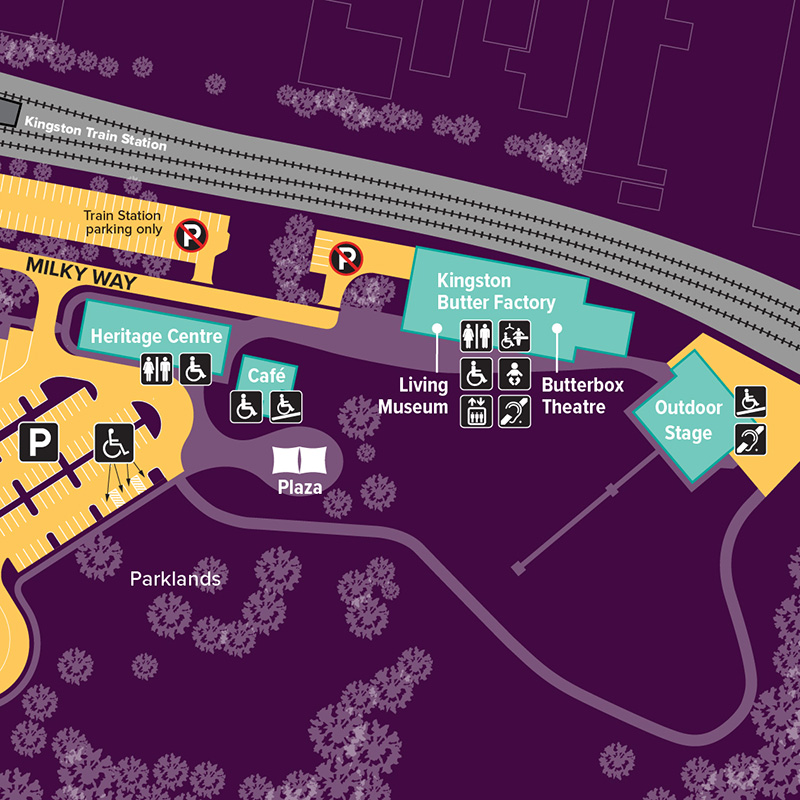 The Kingston Butter Factory Cultural Precinct redevelopment is funded by Logan City Council and the Queensland Government Works for COVID fund. The Australian Government funded precinct Smart Poles and CCTV cameras (Safer Communities Fund).
Something for everyone
The new outdoor stage will be the largest outdoor events space in Logan, with capacity for crowds of up to 5,000 (pending COVID-19 restrictions). It will host national acts, major festivals and community events.
The Butterbox Theatre is our newest indoor performance, rehearsal and workshop space. With capacity for 220 people, the black-box theatre will offer intimate arts experiences including music, drama, comedy, workshops and talks.
The living museum will be a place to see, hear and experience the stories of the people who have made the City of Logan what it is today. It's a contemporary social history museum that is family-friendly and welcoming to Logan's diverse communities.
It's a place for communities to tell their own stories in their own words, through arts and cultural expression, providing opportunities to raise awareness and build upon respect. The museum will feature a co-curated space by and for Logan's Aboriginal and Torres Strait Islander peoples. Visitors will be able to learn about First Nations language and culture, and hear digital stories from Logan's Elders.
Also on site will be the Logan City Historical Museum Society Inc., returning to the Kingston Butter Factory precinct in a purpose-built new heritage centre. Its exhibits tell the story of the region's European settlement and development of the City of Logan from 1826 to the present day.
You can grab a bite to eat when you visit the precinct, with Devon Pixies Teahouse relocating from Logan Village to the renovated historic workers' cottage.
Subscribe to our newsletter to be the first to know about our exciting opening program of events, exhibitions and activities.